When the temperature outside is freezing, having a reliable heat source isn't your only concern. Unfortunately, for many local property owners, frozen water pipes can be a wintertime hazard as well. In spaces that are poorly insulated, pipes can become blocked by ice, shutting off your water supply and putting you at risk of a water pipe burst. If your home or business is having trouble with water pipes freezing, turn to the pros at O'Brien Plumbing, Heating & Air Conditioning for prompt, effective services in frozen pipe repair. With more than 27 years of hands-on know-how, we're your master plumber in Hardwick and the Sussex County region for dealing with frozen pipes.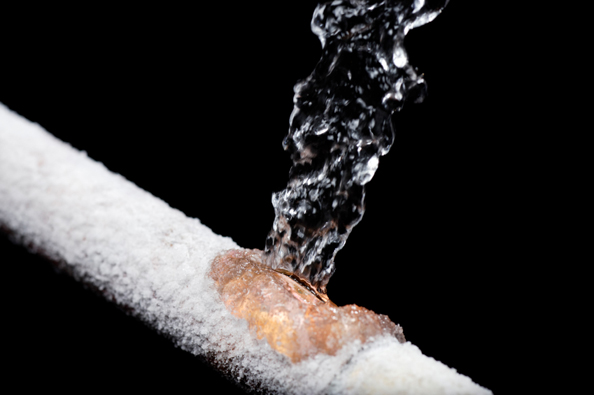 At O'Brien Plumbing, Heating & Air Conditioning, we can help regardless of the magnitude of your frozen pipe problems. Our services range from early prevention of a frozen water pipe to immediate repairs, including 24-hour availability for:
Fixing leaking pipes
Thawing frozen pipes
Preventing frozen pipes
Burst water pipe emergencies
Keep in mind there are wrong ways for thawing frozen pipes and right ways. To avoid the potential fire hazards and property damage of mishandled frozen pipe repairs, it's best to count on experienced plumbers in any type of situation from frozen water pipes in your residential bathroom to your commercial kitchen. The sooner you contact O'Brien Plumbing, Heating & Air Conditioning about your water pipes freezing, the better. That's because we not only know how to thaw frozen pipes safely and quickly, but we also have solutions for avoiding frozen pipes in the first place, so you never have to face the ordeal of a water pipe burst.
Burst Water Pipe Repair and Replacement
You never know what to expect from harsh winter weather. But thanks to O'Brien Plumbing, Heating & Air Conditioning, you always have a skilled plumber in your corner for frozen or burst water pipes. What's more, we give you the total peace of mind of our money-back guarantee on all of our frozen pipe services, including burst water pipe repairs and replacements. So don't try to thaw frozen pipes on your own or leave your burst water pipes to a less experienced company. We promise you timely turnarounds, reasonable rates, and 100% satisfaction for your frozen pipe repairs. Call or email us today!