Remodeling a bathroom is one of the smartest investments you can make in your home or business. Not only will it enhance the day-to-day functionality and décor of your property, but when it comes time to sell, an updated bathroom is something every buyer likes to see. So don't subject your house guests to a restroom that's far from restful or spoil the image of your workplace with a dingy, dated lavatory. For bathroom renovation from a team of licensed pros, bring in O'Brien Plumbing, Heating & Air Conditioning. Our master plumber business has been a fixture in Hardwick and Sussex County since 1992, but our bath remodeling results are thoroughly in line with the latest showroom designs.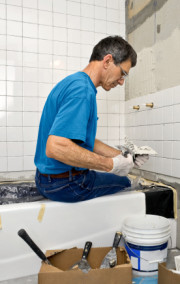 If you've ever taken on a whole room renovation, then you know the importance of planning ahead. By consulting with our professional bath remodeling crew, you'll be able to choose from an incredible array of trendy and traditional options and decide exactly how you want your new bathroom to look, right down to the hardware on the cabinets.
At O'Brien Plumbing, Heating & Air Conditioning, we want you to be absolutely delighted with the outcome of your bathroom remodel. That's why we take the time up front to determine which layout,  features, and fixtures best suit your needs as well as your budget. We also offer custom tile and marble work, so you can ensure your bath renovation reflects your particular personal style.
Versatile Bathroom Remodeling Contractors
Whether you want to imbue your bathroom at home with the warm tones and clean lines of today's nature-inspired designs or you'd like the facilities at your business to impart a more contemporary feel, O'Brien Plumbing, Heating & Air Conditioning is here to make it happen. Promising impeccable craftsmanship and unbeatable service at every step, our bath remodeling team provides complete installation of:
Bathroom fixtures
Lighting and fans
Plumbing and electrical work
Sinks and toilets
Showers and tubs
Vanities and countertops
Tile and flooring
Walls and trim
And more!
From ripping out your old bath and beginning at square one to making more minor updates and working with what you already have, the extent of our bathroom remodel services is entirely up to you. Either way, we'll bring our 27+ years of expertise to the table so you get the bath renovation of your dreams. That's just the way we do business at O'Brien Plumbing, Heating & Air Conditioning, whether we're changing out a boiler or transforming a tired bathroom. So don't put off your bath remodeling for one more day. To learn more about our home or business bathroom renovations in the Hardwick area, give us a call today!